29/03/2022
UNIVERSITY OF SPORTS HO CHI MINH CITY AND VIETNAM INTERNATIONAL INSTITUTION OF SPORT ANNOUNCE STRATEGIC PARTNERSHIP
Ho Chi Minh City – 28th March 2022 – Ho Chi Minh City University of Sports (USH) and Vietnam International Institution of Sport (VIIS) signed a memorandum of understanding for a  comprehensive partnership. This will enable Ho Chi Minh City University of Sports (USH) students further develop and enhance their careers through the power of sports education. 
Being within the Creative Edu-ecosystem of Embassy Education which has an extensive network of ventures dedicated to the holistic development of children through education, arts & culture, and media, VIIS adds the highest level of Sport Education to this group to further enhance the academic pathway of Vietnamese Children.    
The partnership agreement entails a comprehensive collaboration between the two parties. A key part of the MOU is USH and VIIS will jointly develop and implement  programs, workshops, training sessions, and scholarships to encourage and support USH students to explore and experience a variety of career opportunities through Sports Education to enhance the job-readiness of USH students.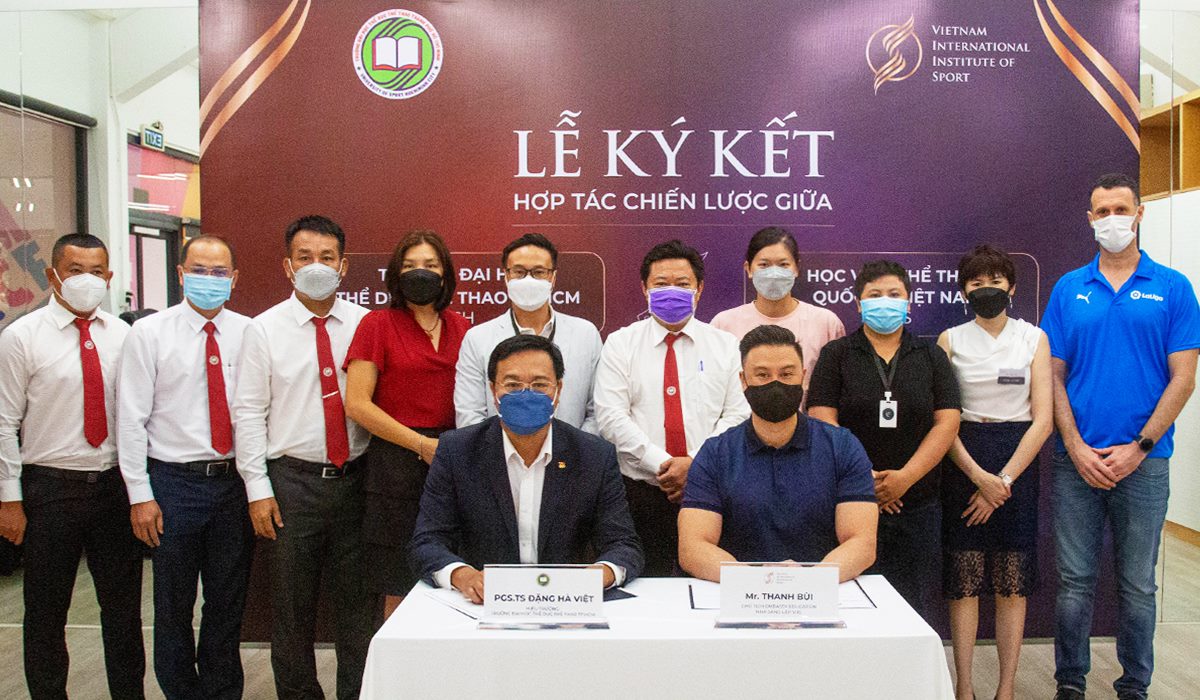 Representatives of VIIS including Ms. Ha My – General Director of Global Embassy, Mr. Tan Bui – Managing Director of VIIS, Ms. Anh Vien – Head of Swimming VIIS, Ms. Mai Trang – Head of Table Tennis VIIS, and Mr. Burell Morales Rodrigo Jose from LaLiga Vietnam Academy were delighted to formally commence this collaboration with a well-established University dedicated to serving the community through Sport Education as well as having many Sporting Hero's as part of USH Alumni.
"We believe children need to be educated through physical activity and specialized physical training, in addition to academics. As a way to help children become well-rounded and excellent citizens, sport education is crucial. We wish to create a new generation of Vietnamese talents capable of expressing the pride of the Vietnamese nation. VIIS realizes that cooperating with leading units in the field of physical education training is essential to accomplishing this mission. This cooperation event with the University of Sports Ho Chi Minh City marks a new milestone in the development of both organizations. We all share the same goals of nurturing and empowering Vietnamese youth through sport." Ms. Ha My shared. 
Sharing their commitment and spirit partnership, USH Leadership team attending this ceremony at Embassy Education includes: 
 Assoc Prof Dr. DANG HA VIET – Principal

 

 Dr. NGUYEN THANH BINH – Vice Principal

 

 Assoc Prof Dr. VU VIET BAO – Chairman of the School Board

 

 Dr. NGUYEN THI MY LINH – Head of Training, Science Management, and International Cooperation

 

 Assoc Prof Dr. LY VINH TRUONG – Head of Sports Training Department

 

 Dr. TA HOANG THIEN – Head of Physical Education Department

 

MsC NGUYEN HUU HOANG PHUC – Football Teacher

 
"As one of the three universities with expertise in sports training in Vietnam, we create quality coaches and athletes to develop Vietnam's professional sports industry.  We also care about using sport as the core to support many aspects of our students' development. I believe that signing a memorandum of understanding between the two parties will contribute to creating more opportunities for our students to interact with experts from international sports academies such as LaLiga Viet Nam Academy and explore the strengths of each side to develop Sport Education in Vietnam." Associate Professor Ph.D. Dang Ha Viet – USH Principal shared at the ceremony.  
VIIS believes that this partnership will not only enhance the students of USH, but together we will elevate the industry to improve Vietnam's sporting culture for all, making the most of our latent potential of both parties from sports management, sport entertainment, sport pathways, player management and Elite Sport Education.  
.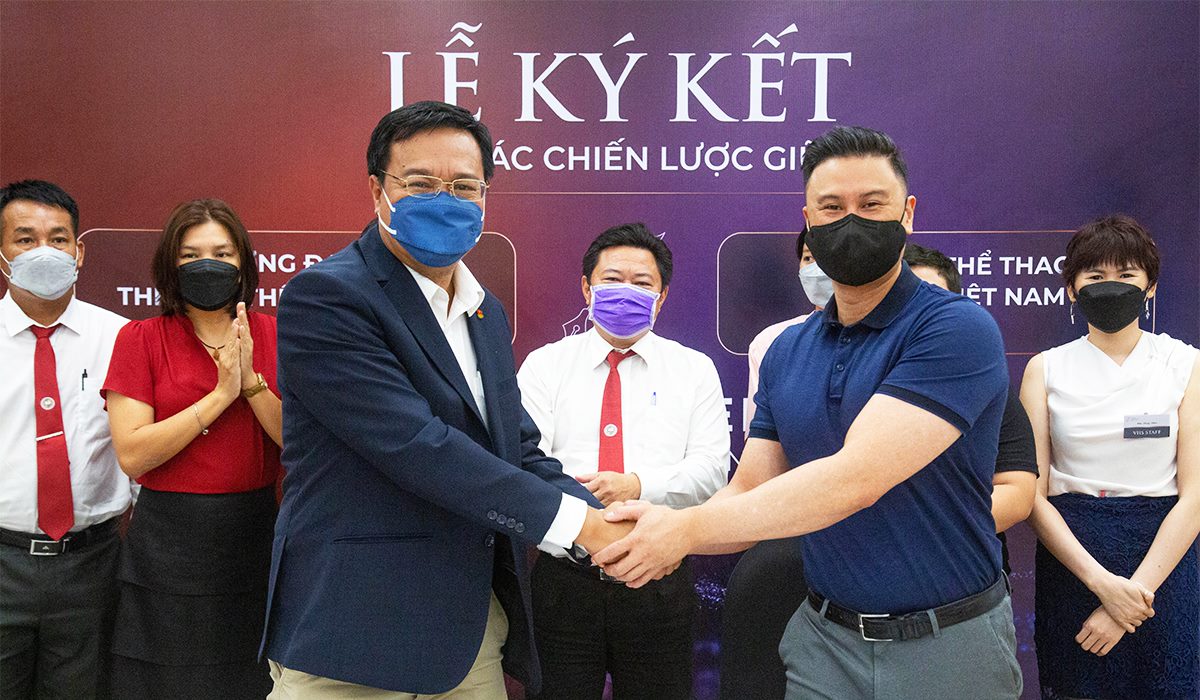 The strategic cooperation between both parties highlights the common understanding that to achieve our goals, we must first start with our coaches and nurture themselves to be first Educators before being Sport Coaches. 
About Vietnam International Institution of Sports (VIIS)
As part of Embassy Education Creative Edu–Ecosystem, Vietnam International Institute of Sport (VIIS) mission is empowering through Sports Education.
A key objective of VIIS is to train a new generation of Vietnamese talent, ready to dedicate themselves and be the pride of Vietnam. Through our academies in football (LaLiga Academy Vietnam), tennis, swimming, table tennis, and Vovinam, VIIS will bring students an complete experience covering facilities, student pathways, qualified teachers and full academic integration will ensure we serve our students completely. 
About University of Sport Ho Chi Minh City  
 Established on January 28, 1976, University of Sport HCMC (USH) is a university with a traditional and prestigious model combining training and coaching, the greatest influence on Sports in the Southern region.   
With modern facilities and lecturers with doctoral degrees, generations of lecturers and staff of USH have always devoted themselves to the mission of research and knowledge development, to train a generation to serve the greater community.  
Their contribution to our society has been significant, not only making impact in their field but also the entire country. USH has an incredible history of alumni, from swimmer Nguyen Thi Anh Vien, badminton player Nguyen Tien Minh, Muay Thai fighter Nguyen Tran Duy Nhat, Chinese chess player Nguyen Hoang Lam and with a future of more talented alumni to come.